Our Guides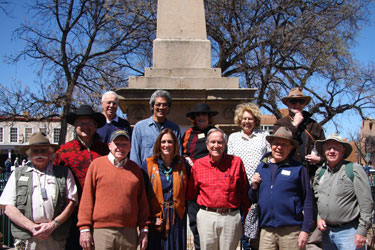 Carol Imrie-Mui Owner
Born and raised in the wine country - Napa Valley, California. Carol graduated from the University of the Pacific with a major in history. She moved to Santa Fe and began working as a professional guide and then formed Historic Walks of Santa Fe. Carol Mui is a member of the Santa Fe Tour Guides, LLC and Santa Fe Chamber of Commerce.
Bilingual: English/Spanish.
Our company Historic Walks of Santa Fe is a leading tour operator that can provide destination planning and historic & cultural tours for groups and individuals visiting our unique city of Santa Fe and Northern New Mexico.
Len Alaimo
Long-time student of New Mexico history, in particular, the history of Santa Fe. He is a veteran tour leader of the City of Santa Fe as well as other historic sites in the area. Len has served as a docent at the New Mexico Museum of History, Museum of Spanish Colonial Arts and the Santa Fe Opera. Len currently works for Historic Walks of Santa Fe conducting tours & special events for select groups.
Maria Martinez Felt
Maria is a native New Mexican who traces her New Mexico ancestry back to the early 1700s. She has a vast knowledge of New Mexico history and is also a docent at the NM History Museum - The Palace of the Governors. Maria enjoys genealogical research and has had a family Church History -El Santuario de Chimayo published. She's the great, great, great granddaughter of Don Bernardo Abeyta, the founder of El Santuario de Chimayo, a church which is world famous for its healing dirt and known as the "Lourdes of America." Maria's also an aspiring artist who has been painting for 20+ years.
Joel B. Stein
Joel is the author of the recently published guidebook Santa Fe in a Week (more or less). He is a docent at the Palace of the Governors and the Santa Fe Opera, as well as a member of the Santa Fe Guides, LLC. An avid worldwide traveler he has become steeped in the history and culture of New Mexico since moving here from Colorado seven years ago.
Philip Jäger
After obtaining Bachelor and Master Degrees in Political Science and Public Administration, Philip's career was as a Finance and Budget Executive for the Michigan Governor's Budget Office. Prior to relocating to Santa Fe, he was also a docent at the State of Michigan's large History Museum. He has been a museum docent for the New Mexico History Museum and Palace of the Governors for more than a decade. He has an abiding interest in southwest history and New Mexico's history and culture in particular. He also serves as a docent at the Cathedral Basilica of St. Francis Assisi and the Museum of International Folk Art in Santa Fe.
Phill Westen
Phillip L. Westen is a native of Santa Fe, having attended Wood Gormley Elementary School and Santa Fe Prep School. He has a bachelor's degree in Biology with a Masters in Ecology. Phillip retired from government work in January of 2008. He was employed by the New Mexico Environment Department's Solid Waste Bureau, followed by work with the Los Alamos County Solid Waste Division and finally as Solid Waste Director for Santa Fe County. Phill has also taught college courses in environmental studies. He currently does photography which he combines with his love of history of Santa Fe and New Mexico.
Arlene Ory
Raised in Palos Verdes, southern California.
Arlene graduated from Northwestern University, Chicago, in Speech Communication. She lived in Annecy, France (French Alps) for six years. Arlene is fluent in the French language. She has an M.A. from the University of Geneva, Geneva, Switzerland in International Business and worked at the Geneva U.N. headquarters.
Arlene spent several months recently in Guinea, West Africa, as a founding Board member of Lanyi Fan Foundation aiding African girls in completing high school. Arlene is a graduate of the International Guide Academy, Denver.
Arlene has been guiding visitors from all over the globe, through Northern New Mexico and Santa Fe, for 12 out of the 19 years she has resided here since moving from San Francisco. Arlene specializes in bringing the ancient, deep cultural histories and arts of this High Desert region of the world in custom, individual or corporate group format.
Shelly Brock
Shelly is a graduate of the University of Texas, Austin with a Bachelor's Degree in History. Growing up in the military Shelly was able to travel and live all over the United States and foreign countries. Her years in the Middle East and then the Southwest brought her back to Santa Fe to be in the high desert. . Shelly recently retired from a 30 year career in technology and now is able to devote time to learning more history, particularly Northern New Mexico and share it with others. Shelly also is an avid snow skier, volunteers at the Santa Fe Opera, Kitchen Angels and is a Docent at the New Mexico Museum of History/Palace of the Governors.
Anyes Jansen
Anyes Jansen, Certified International Tour Manager (CITM) has been directing Tours in Santa Fe NM and The South West National Parks since 1995 for Globus Family of Brands, Trafalgar Tours and Historic Walks of Santa Fe.
Anyes also directed Tours in Canada, USA and Mexico National Parks and Cities since 1991. She has made Santa Fe her home from 1993 on.
Historic Walks' Staff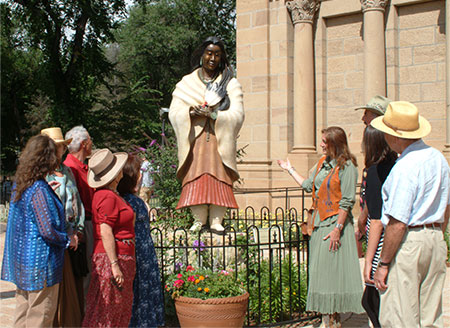 Annabel Tiberi Executive Assistant
Native of New Mexico, graduate of University of New Mexico. Have lived in Santa Fe for the past 29 years. President of the Santa Fe Opera Guild, and a member of the Greer Garson Theatre Guild, and the Junior Welfare Association. Involved in all aspects of operation and management of the Sangre de Cristo Tennis Club. Have worked extensively in the hospitality industry with La Posada de Santa Fe Hotel; Bishop's Lodge Ranch Resort & Spa; and Hilton Santa Fe Historic Plaza.
Marcos Maez Tour Coordinator
Marcos is a proud native of Santa Fe and has lived in the capitol city his entire life. He received a Bachelor's Degree in Communication & Journalism from the University of New Mexico. Marcos is the Tour Coordinator for Historic Walks of Santa Fe, responsible for scheduling the Ghostwalkers Tour and other customized events and tours for private and corporate groups. Marcos is passionate about family, life, and community.
Phillip Westen Event Coordinator
Los Alamos County Solid Waste Department Recycling Coordinator. Implementation and purchasing for cart distribution program. Managed 7 transfer stations and in charge of annual budgets. Coordinated staff of 23 for Santa Fe County Solid Waste Department.