Our Guides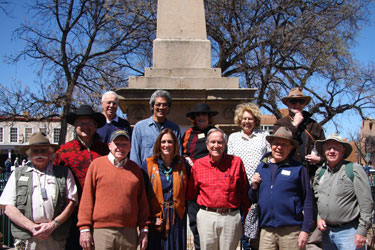 Carol Imrie-Mui Owner
Born and raised in the wine country - Napa Valley, California. Carol graduated from the University of the Pacific with a major in history. She moved to Santa Fe and began working as a professional guide and then formed Historic Walks of Santa Fe. Carol Mui is a member of the Santa Fe Tour Guides, LLC and Santa Fe Chamber of Commerce.
Bilingual: English/Spanish.
Our company Historic Walks of Santa Fe is a leading tour operator that can provide destination planning and historic & cultural tours for groups and individuals visiting our unique city of Santa Fe and Northern New Mexico.
Bob Ackenhausen
Bob is from St. Louis, Missouri. After retiring from a career in financial system technology Bob moved with his wife Nancy as she pursued a job in New York City. Bob?s love of history made exploring New York City and all its varied neighborhoods a wonderful experience. Bob joined the Central Park Conservancy and won an award for planning the best tour of Central Park. In addition to tours of Central Park, Bob led tours of SOHO, Chinatown, Little Italy and his favorite, the Brooklyn bridge.
Bob became a docent at the Santa Fe botanical garden. Bob discovered the deep, rich and to many Americans the unknown history of Santa Fe. He loves to share this history and is excited to learn more every day he resides in this fascinating city.
Penelope Fisher
Penelope was born in Philadelphia, Pennsylvania. A few years later, her family moved to San Antonio, Texas. As the daughter of a military career father, she lived in different locations, including Europe, but the family always returned to the West. Penelope repeated this pattern after graduating from Simmons College, in Boston, Massachusetts, when she moved to Austin, Texas. She eventually went back to school and earned a graduate degree from Texas A&M University.
Work took her to other states and different careers for a few years. Then she settled in Durango, Colorado where she owned and managed a successful small business. After retiring, she relocated to Santa Fe. As a lifelong tourist and passionate lover of learning, she eagerly shares her knowledge of the diverse historic, cultural and environmental influences that have shaped Santa Fe. In addition to her work as a guide for Historic Walks of Santa Fe, she is a volunteer docent for the Randall Davey house at the Audubon Center and Sanctuary.
Ulrike Porat
Ulrike Porat was born in Germany. She has lived in Canada and England and now resides permanently in Santa Fe. She is a tour guide for Las Golondrinas Living History Museum as well as Historical Walks and volunteers at the Chamber of Commerce Visitor Center. She has degrees in international relations and journalism from Syracuse University and a graduate degree in business from Johns Hopkins. In her free time she hikes, cycles and struggles to learn blues guitar.
Arlene Ory
Raised in Palos Verdes, southern California.
Arlene graduated from Northwestern University, Chicago, in Speech Communication. She lived in Annecy, France (French Alps) for six years. Arlene is fluent in the French language. She has an M.A. from the University of Geneva, Geneva, Switzerland in International Business and worked at the Geneva U.N. headquarters.
Arlene spent several months recently in Guinea, West Africa, as a founding Board member of Lanyi Fan Foundation aiding African girls in completing high school. Arlene is a graduate of the International Guide Academy, Denver.
Arlene has been guiding visitors from all over the globe, through Northern New Mexico and Santa Fe, for 12 out of the 19 years she has resided here since moving from San Francisco. Arlene specializes in bringing the ancient, deep cultural histories and arts of this High Desert region of the world in custom, individual or corporate group format.
Joel B. Stein
Joel is the author of the recently published guidebook Santa Fe in a Week (more or less). He is a docent at the Palace of the Governors and the Santa Fe Opera, as well as a member of the Santa Fe Guides, LLC. An avid worldwide traveler he has become steeped in the history and culture of New Mexico since moving here from Colorado seven years ago.
Specialty Guides
John Lorenzen
John runs the very popular
Ghostwalkers
tour. Full bio coming very soon.
Historic Walks' Staff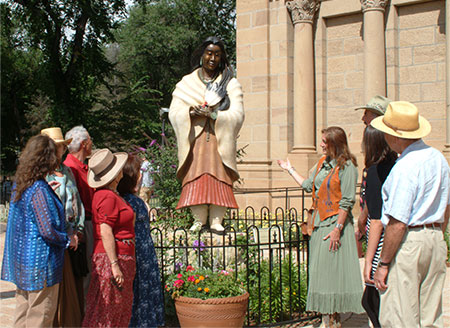 Annabel Tiberi Executive Assistant
Native of New Mexico, graduate of University of New Mexico. Have lived in Santa Fe for the past 29 years. President of the Santa Fe Opera Guild, and a member of the Greer Garson Theatre Guild, and the Junior Welfare Association. Involved in all aspects of operation and management of the Sangre de Cristo Tennis Club. Have worked extensively in the hospitality industry with La Posada de Santa Fe Hotel; Bishop's Lodge Ranch Resort & Spa; and Hilton Santa Fe Historic Plaza.