Our Guides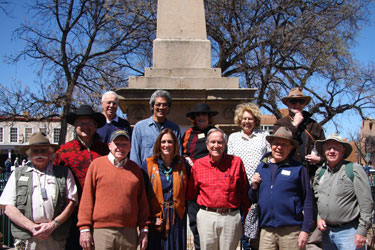 Carol Imrie-Mui Owner
Born and raised in the wine country - Napa Valley, California. Carol graduated from the University of the Pacific with a major in history. She moved to Santa Fe and began working as a professional guide and then formed Historic Walks of Santa Fe. Carol Mui is a member of the Santa Fe Tour Guides, LLC and Santa Fe Chamber of Commerce.
Bilingual: English/Spanish.
Our company Historic Walks of Santa Fe is a leading tour operator that can provide destination planning and historic & cultural tours for groups and individuals visiting our unique city of Santa Fe and Northern New Mexico.
Arlene Ory
Raised in Palos Verdes, southern California.
Arlene graduated from Northwestern University, Chicago, in Speech Communication. She lived in Annecy, France (French Alps) for six years. Arlene is fluent in the French language. She has an M.A. from the University of Geneva, Geneva, Switzerland in International Business and worked at the Geneva U.N. headquarters.
Arlene spent several months recently in Guinea, West Africa, as a founding Board member of Lanyi Fan Foundation aiding African girls in completing high school. Arlene is a graduate of the International Guide Academy, Denver.
Arlene has been guiding visitors from all over the globe, through Northern New Mexico and Santa Fe, for 12 out of the 19 years she has resided here since moving from San Francisco. Arlene specializes in bringing the ancient, deep cultural histories and arts of this High Desert region of the world in custom, individual or corporate group format.
Specialty Guides
John Lorenzen
John runs the very popular
Ghostwalkers
tour. Full bio coming very soon.
Historic Walks' Staff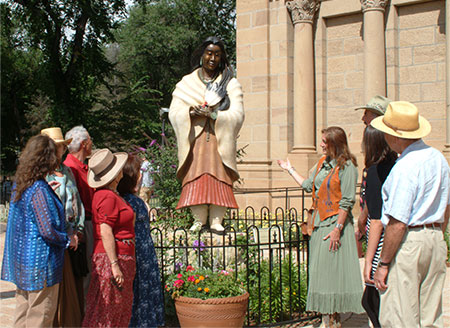 Annabel Tiberi Executive Assistant
Native of New Mexico, graduate of University of New Mexico. Have lived in Santa Fe for the past 29 years. President of the Santa Fe Opera Guild, and a member of the Greer Garson Theatre Guild, and the Junior Welfare Association. Involved in all aspects of operation and management of the Sangre de Cristo Tennis Club. Have worked extensively in the hospitality industry with La Posada de Santa Fe Hotel; Bishop's Lodge Ranch Resort & Spa; and Hilton Santa Fe Historic Plaza.