Artist @ Home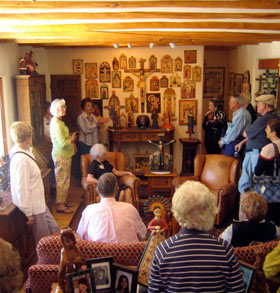 Santa Fe Artist @ Home / Studio is a half-day event that gives each participant an "intimate view" of one of the great local artists living today in Santa Fe and concludes with lunch at a local favorite--Santa Cafe! This exclusive and signature event features premiere Santa Fe artists in their respective homes, studios or galleries who provide personal commentary on life as an artist and their particular mediums.
Historic Walks also offers a Custom Canyon Road Art Event at select galleries presenting their most important artists. These outstanding artists help the guests to create their own art inside each gallery with assistance from Historic Walk's professional guides/art historians.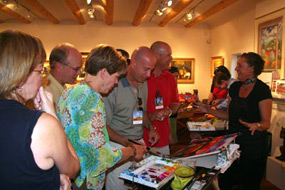 Event cost of $200/person for Santa Fe Artist @ Home: based on a minimum group of 10-15 guests Includes: Transportation, luncheon @ Santa Cafe, professional guide & artist fees & gratuities and administrative cost
Price on request for Custom Canyon Road Art Event
Includes: Transportation, professional guide/artist fees & gratuities, luncheon on Canyon Road or refreshments @ Gallery and administrative cost.
Reservations required.
CLICK HERE TO RESERVE YOUR TOUR