Taste & Spirits of Old Santa Fe
A Unique Historic & Culinary Santa Fe Experience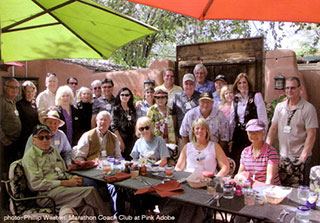 The customized private
Taste & Spirits of Old Santa Fe Event
is a customized two hour event that combines history with an exclusive "Old Santa Fe Culinary Experience"! Our professional "museum docent" guides from the New Mexico History Museum share historic commentary & background on the exceptional cuisine presented by these outstanding restaurants considered Historic Santa Fe's "local favorites"... This customized "Santa Fe Culinary Experience" starts at historic La Casa Sena with old world charm and Contemporary Southwestern Cuisine and continues to La Boca or La Taberna (for larger groups) specializing in Tapas & Other Savory Spanish Cuisine created by Chef/Owner, James Caruso concluding for a "perfect finale" at the celebrated Coyote Cafe' known as the forerunner of Contemporary Southwestern Cuisine! Each restaurant provides a "Signature Cocktail & Tastings" for your special guests created with Southwestern Flair by their notable Santa Fe Chefs!!
Price Upon Request based on a minimum of 8-10 guests
WINTER SCHEDULE - January & February
(Resume HWSF Daily Tour Schedule in March)
Monday thru Thursday
- Please contact
HWSF @ (505) 986-8388 to reserve a private Historic/Cultural Tour of Old Santa Fe.
DAILY Historic/Cultural Tours offered on Friday, Saturday & Sunday @ 9:30am ONLY departing from the Eldorado Hotel Lobby.
This is the tour chosen by The National Trust for Historic Preservation, Grand Luxe Rail Journeys - formerly American Orient Express Tauck World Discovery &
Globus
Reservations required.
CLICK HERE TO RESERVE YOUR TOUR